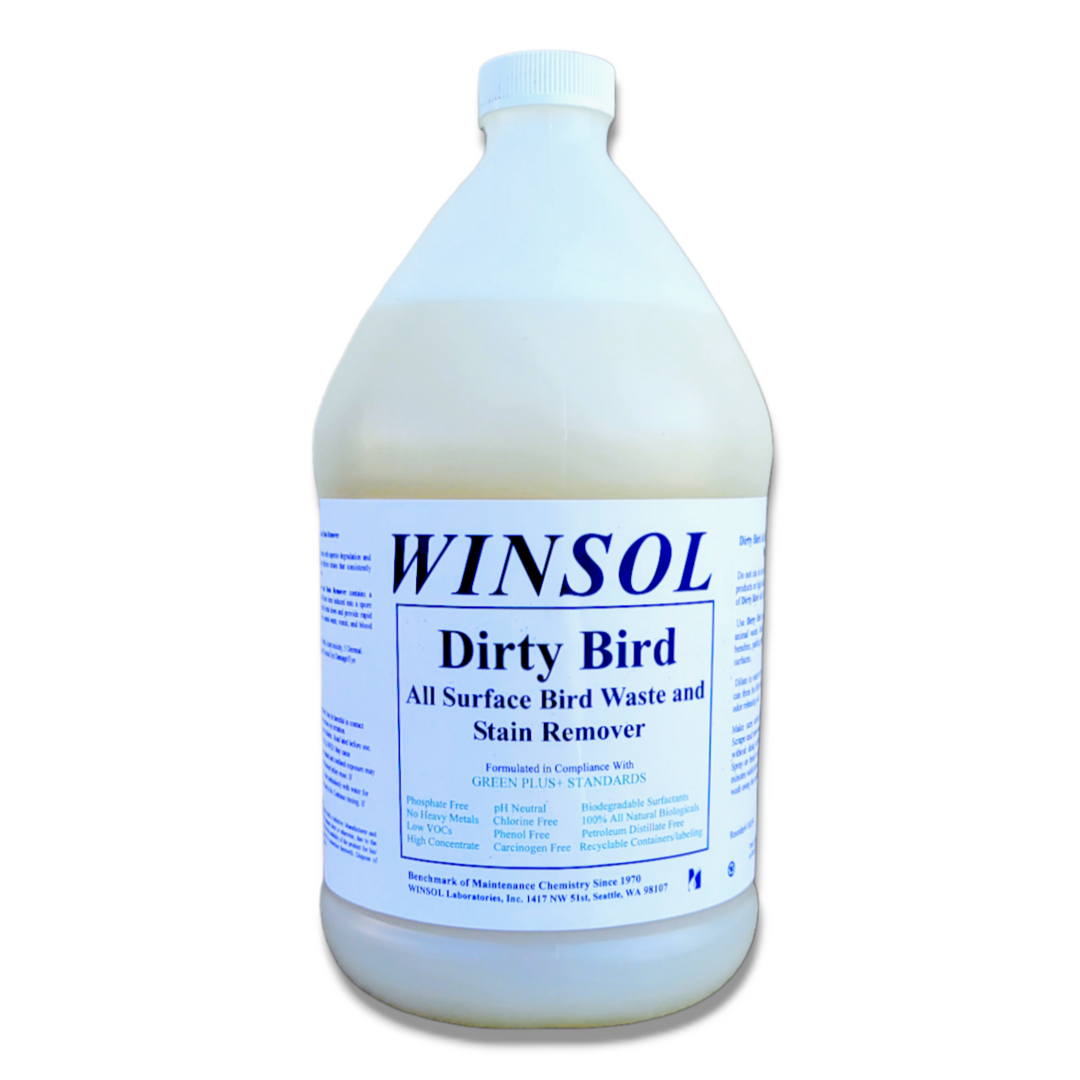 Winsol Dirty Bird
---
Low stock - 4 items left

Inventory on the way
Dirty Bird All Surface Bird Waste and Stain Remover is a powerful solution engineered specifically to combat the tough challenges posed by bird and animal waste. Chlorinated for enhanced efficacy, this stain remover is adept at breaking down intense organic stains and odors, rendering surfaces clean and fresh. Whether it's roofs, gutters, awnings, or even loading docks, Dirty Bird delivers unparalleled cleaning prowess. Designed for most washable surfaces, it provides users with a versatile cleaning companion, ensuring the environment remains hygienic and stain-free.
Key Features:
Specially formulated to tackle bird and animal waste.
Chlorinated composition for added cleaning power.
Safe for a variety of washable surfaces.
Efficient in breaking down organic waste, stains, and odors.
Convenient dilution ratio, ensuring optimum performance.
Usage Instructions:
Preparation: Shake well before each use. Make sure the surface temperature is above 50° F.
Pre-Cleaning: Before application, scrape off and remove any heavy deposits or fluids without causing surface damage.
Dilution: Dilute Dirty Bird in a 1:4 ratio with water. Ensure water temperature is between 50° and 105° F.
Application: Apply the diluted solution using a sprayer or brush. Let it sit for at least 20 minutes, allowing the bacteria to act on the waste.
Final Steps: Rinse off the residue and let the surface dry. If residues persist, repeat the treatment.
Caution:
Do not use with hot/boiling water, disinfectants, bleach, or high alkali products. Using these can neutralize the bacteria in Dirty Bird, rendering it ineffective.