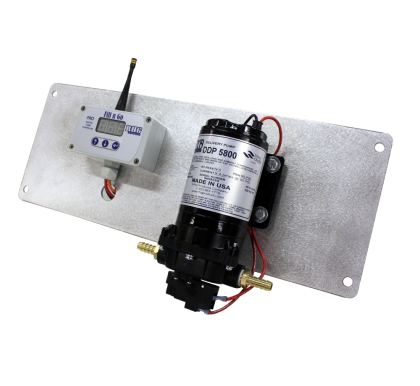 Tucker 12v Delivery Panel w/Controller and LONG RANGE Remote
---
Free shipping! (USA mainland)
Are you the DIY type?
These delivery panels are pretty sweet.  They are made from a lightweight aluminum and easily mount to many different surfaces.
They include the RHG delivery pump with digital flow controller and on/off Remote control.
The pump will siphon your pure water holding tank and deliver the water via a hose (not included) to your water-fed pole.
The digital flow controller allows you to turn up or down the flow/pressure of your pump based on your specific job.  This in turn allows you to conserve your pure water supply for the day.
The remote has multiple functions built in including the ability to turn up, down, and off the flow of water.
Simply hook the inlet side of the pump up to a short hose that siphons your tank and the outlet side of the pump to a hose/reel that feeds your water-fed pole.
Utilizes the V16 Flow Controllers. 
The only other thing you need is a 12 volt battery to supply this power.
Not sure how to hook it up?  Give us a call and we'll walk you through the process.
We coordinate with the manufacture and ship to your preferred location.
If a product is on back-order more than 7 days, we will notify you immediately and issue a full refund.
** Free shipping only applies to mainland USA
Liquid error (snippets/image-element line 103): invalid url input