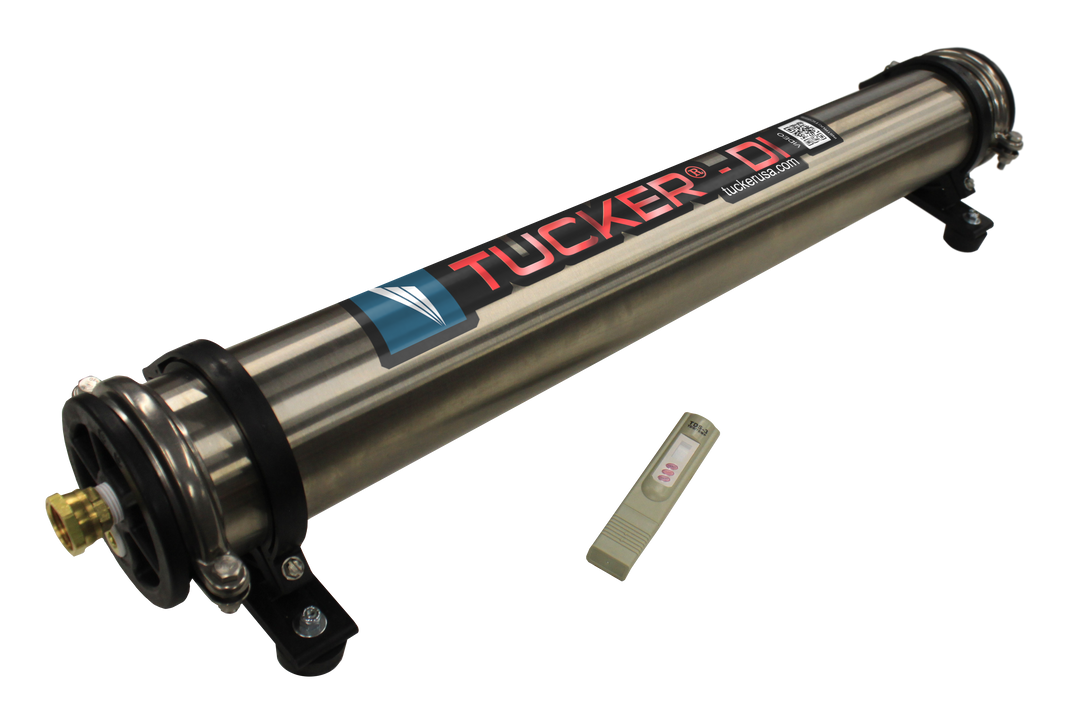 Tucker® Mobile DI System
---
Free shipping! (USA mainland)
The Tucker® Mobile DI System is the most versatile DI System on the market today.
Weighing in at only 20 pounds, it can easily be removed from the vehicle and carried to the job site. Or you can mount it in the vehicle by utilizing the built in mounting brackets.
These systems are a single stage filtration system meaning they are best used in areas with low TDS water or if you plan to only use spot free water on the occasional basis.
Simple set up and use.  Simply connect your tap water hose to the inlet and your pure water hose to the outlet.  
Features/Specs:
Lightweight - Weighs only 20 lbs
Compact - Measures only 36" long
Cost effective - Economical filter replacements and/or bulk resin refilling
Easy to use - tap water in / spot free water out
No pumps necessary 
Easy change filters
Made in USA
Capacity

@25 PPM incoming TDS = 1,880 gallons 
@50 PPM incoming TDS = 940 gallons 
@100 PPM incoming TDS = 470 gallons
We coordinate with the manufacture and ship to your preferred location.
If a product is on back-order more than 7 days, we will notify you immediately and issue a full refund.
** Free shipping only applies to mainland USA
Liquid error (snippets/image-element line 103): invalid url input