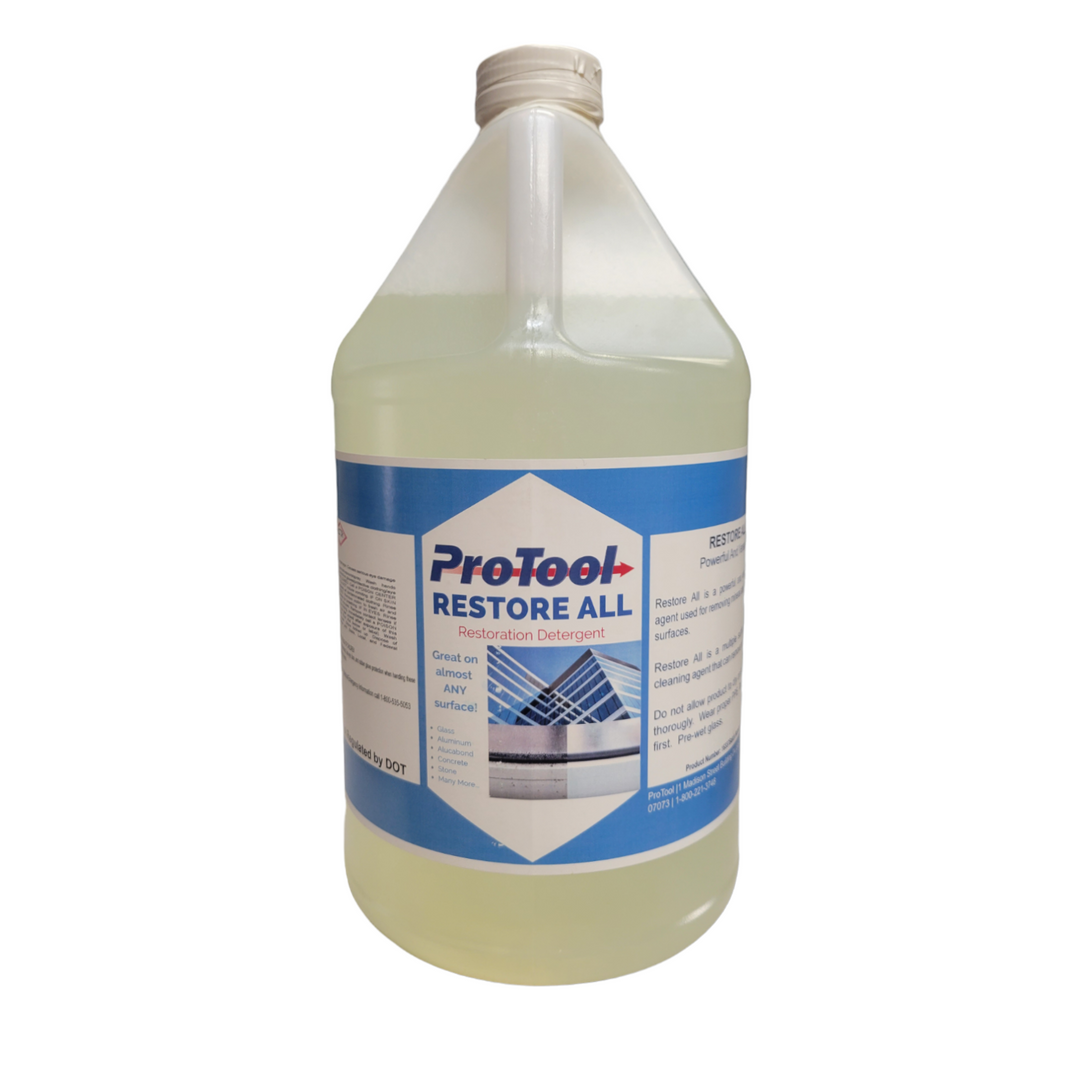 ProTool Restore All Restoration Detergent
---
Low stock - 4 items left

Inventory on the way
Restore All is a superior restoration cleaner engineered for revitalizing a multitude of building surfaces. This cleaner is adept at eliminating tough contaminants, including hard water stains, metal oxide runoff, dirt, and atmospheric pollutants.
Restore All's formula is a carefully balanced mild acid-based cleaner infused with a mixture of detergents and surfactants. This combination is designed to deeply penetrate surfaces, dislodging and lifting stains and pollutants for a thorough clean. Its effectiveness is particularly notable in the removal of stubborn hard water deposits and oxidation, making it a go-to solution for maintaining pristine building exteriors.
Key Features:
Specialized in restoring a variety of building surfaces
Effectively removes hard water stains, oxidation, and other tough contaminants
Formulated with a mild acid base, detergents, and surfactants for deep cleaning action
Ideal for tackling environmental pollutants and restoring original surface conditions
Specs:
Base: Mild acid
Active Ingredients: Blend of detergents and surfactants
Application: Suitable for multiple surface types in building maintenance and restoration
Applications:
Glass
Aluminum
Concrete
Stone
and More...
Safety Precautions for Pro Restore All:
When handling Pro Restore All, it is essential to wear gloves due to its mild acid-based composition. In cases where Pro Restore All is applied through spraying, it is crucial to use a respirator or an appropriate mask to prevent inhalation of the mist.
Although Pro Restore is generally safe for use on various building surfaces, it is always recommended to perform a patch test on a small, inconspicuous area before commencing with the entire project to ensure compatibility and prevent potential damage.