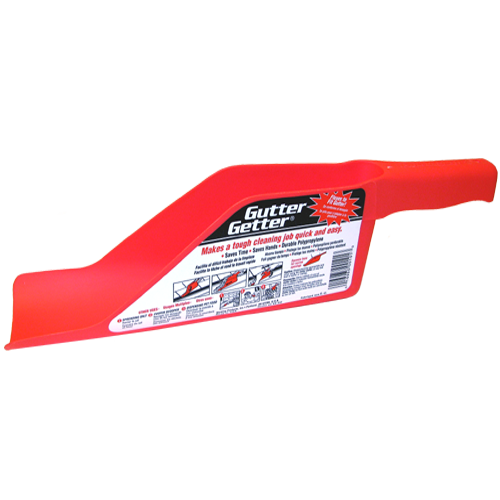 Gutter Getter
---
Low stock - 9 items left

Inventory on the way
The Gutter Getter gutter scoop is made of durable polypropylene, so it won't easily crack, and it can survive a fall. The tool has a large opening and an extended "tongue" to fit in any size gutter and under gutter supports with ease. The deep scoop can hold plenty of debris, making short work of gutter cleaning. This is a handheld item that cannot be fitted to an extension pole.
The Gutter Getter also has multiple uses:
Use it to spread salt on the driveway during winter.
Use it as a scooper for pet food or animal feed.
Use it to clean your pet's waste in the litter box or out on a walk.
Cleaning gutters can get messy, but with the Gutter Getter, it's as easy as 1, 2, 3! The Getter scoop is just the right size to fit into the gutter and to pick up a load of trash and debris. The ergonomic design allows for a better grip so you can scoop out anything with ease.
Made from high-quality, robust material, the Gutter Getter scoop can withstand the toughest gutter cleaning jobs. It's easy to clean too. Just wash the product with water and soap and use a sponge or soft brush to scrub away the dirt, and you're done. Among other gutter-cleaning products, this gutter grabber is your best partner when it comes to clearing those filthy gutters.
Usage, Storage, and Maintenance
Store the Gutter Getter away from open flame, direct sunlight, or excessive heat.
Keep it separate from indoor cleaning kits and supplies to avoid cross-contamination.
Always clean the product after every use. Wash it with soap or disinfect to get rid of germs and bacteria.
Avoid using the same tool for outdoor cleaning and scooping food materials. If possible, get separate scoopers for different purposes.