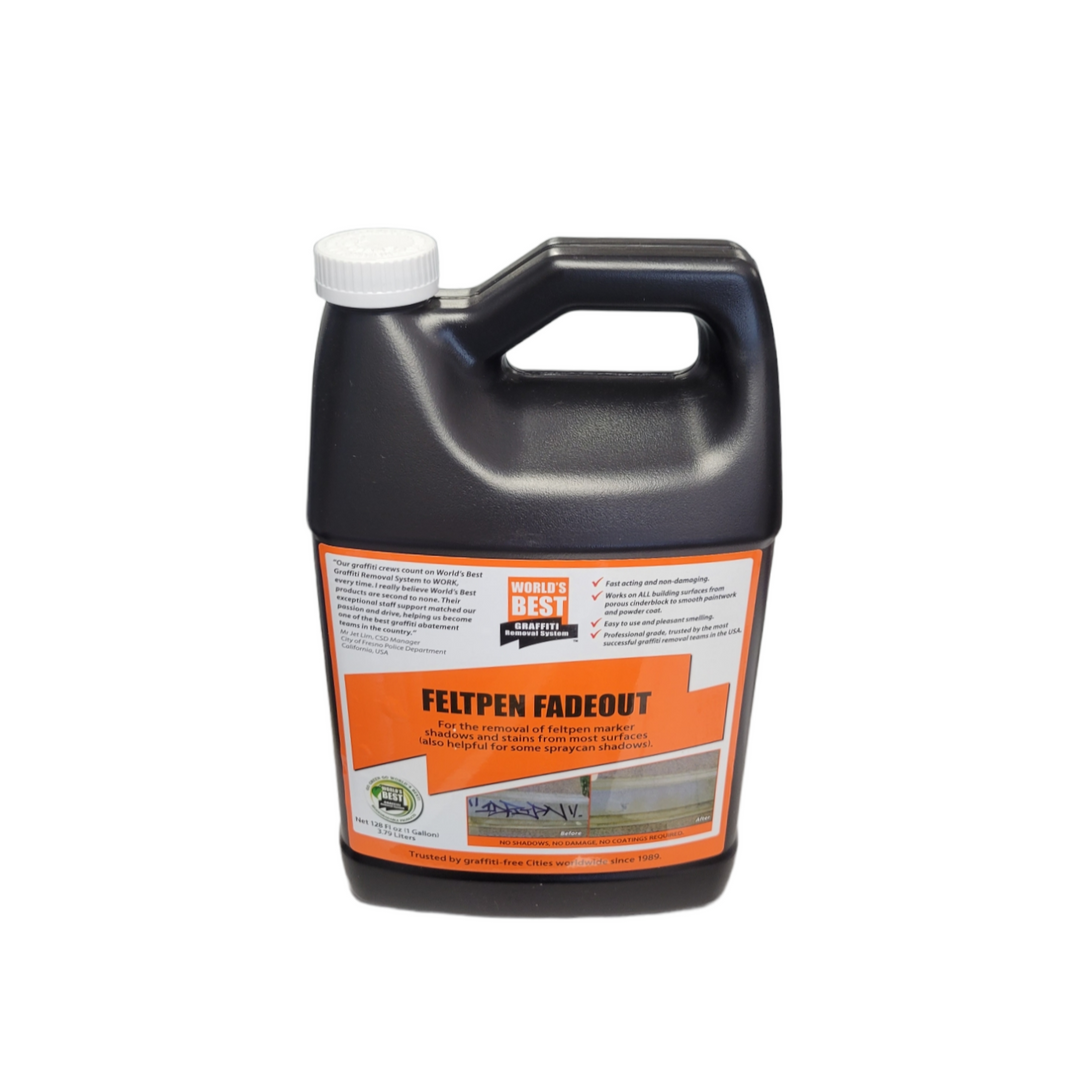 Feltpen Fadeout
---
In stock, ready to ship

Inventory on the way
Feltpen Fadeout (FPFO) is designed for the final removal of shadows and traces of inks and dyes and other graffiti markers from all surfaces; porous and nonporous. FPFO will also remove some spray can stains / 'ghosts' (particularly reds) from delicate and porous surfaces, and is designed to work in conjunction with World's Best Graffiti Removers. FPFO can be diluted with water to use as a high foaming cleaner for the removal of organic stains dirt and fats as well as sanitize surfaces killing microorganisms (germs, bacteria, fungi, etc.)
Features & Benefits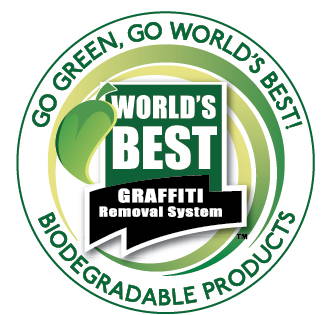 Unique UV sensitive formulation draws inks and other stains out of surfaces.
Can be used while Bare Brick Stone and Masonry Graffiti Remover or Sensitive Surface Graffiti Remover is still on the stain OR after dissolving as much of the graffiti as possible using these removers (choice of remover depends on type of substrate.)
Excellent for removing leather dyes and inks that have shown resistance to removers, 'burnt into' / stained paintwork or coated surfaces, or wrapped into porous surfaces creating a stain.
When diluted, creates a highly active cleaner for use cleaning smoke films, greasy marks, carbon deposits, food spills, mold, fungi, and other soilage.

Product Use Instructions 

Removing Ink and Dye Stains:
After removing as much of any graffiti marker as possible, pour a small quantity of FELTPEN FADEOUT (FPFO) into a small bucket and then apply as thickly as possible to the remaining shadows with a nylon brush. When shadows have disappeared, wipe clean with a damp toweling cloth.On all smooth or porous surfaces including signage, plastics, stone, concrete, granite or marble, you must attempt to remove as much of the graffiti as possible by first applying SENSITIVE SURFACE REMOVER (SSR), in the case of marking pens, or BARE BRICK, STONE AND MASONRY REMOVER (BBSM) in the case of spray can paints.
The time taken to work completely will vary from instantly, to several minutes, to even overnight in some cases.On inks or dyes splashed or thrown onto concrete, brick or porous surfaces etc., it may be necessary to leave FPFO on overnight. When doing this, we suggest applying FPFO as thickly as possible and covering with black plastic. You can tape the plastic to the wall along the three bottom sides first, and then brush on as much FPFO as possible before sealing the top of the bag onto the wall. This will keep the product wetter for longer, as well as prevent anyone from rubbing up against the wall on the affected area.
Occasionally, some markers or spray can paint shadows may not appear to have been affected by FPFO. However, wiping off with a damp cloth in the case of smooth surfaces or pressure cleaning in the case of brick, stone or masonry surfaces can achieve quite surprising results. Do not be concerned if you need to apply this product more than once.
Removing Spray Can Stain: 
 FELTPEN FADEOUT is extremely beneficial in removing certain spray can stains on porous masonry and concrete. After dissolving as much graffiti as possible with BBSM, an application of FPFO during or after the final rinse will eliminate any remaining pigment or stain in the surface. This method (which is illustrated in the sequence below) can be used on a variety of spray can colors, however it is especially useful on RED spray cans and ANY color containing red, ie: oranges, pinks, purples and browns. These colors all contain fine red oxide pigments and are the most likely to leave a residual stain. The stain can be easily removed with a generous application of FPFO. Once FPFO is applied thickly to the stain, the fading process normally takes only a few minutes to less than half an hour, but longer dwell times may be necessary. Fortunately, once you begin to see the stain disappear (even marginally) you can fade the rest, so be patient and reapply FPFO if needed.
For further removal tips, PLUS FPFO's other cleaning applications, download technical data sheet here.  

Coverage Guidelines
Exact coverage varies depending on type of stain and the number of applications needed. For stain removal, use FELTPEN FADEOUT neat. On painted/coated surfaces expected removal is approx. 1000 sq ft per gallon. On porous surfaces requiring more coats, expected removal is up to 300 sq ft per gallon.