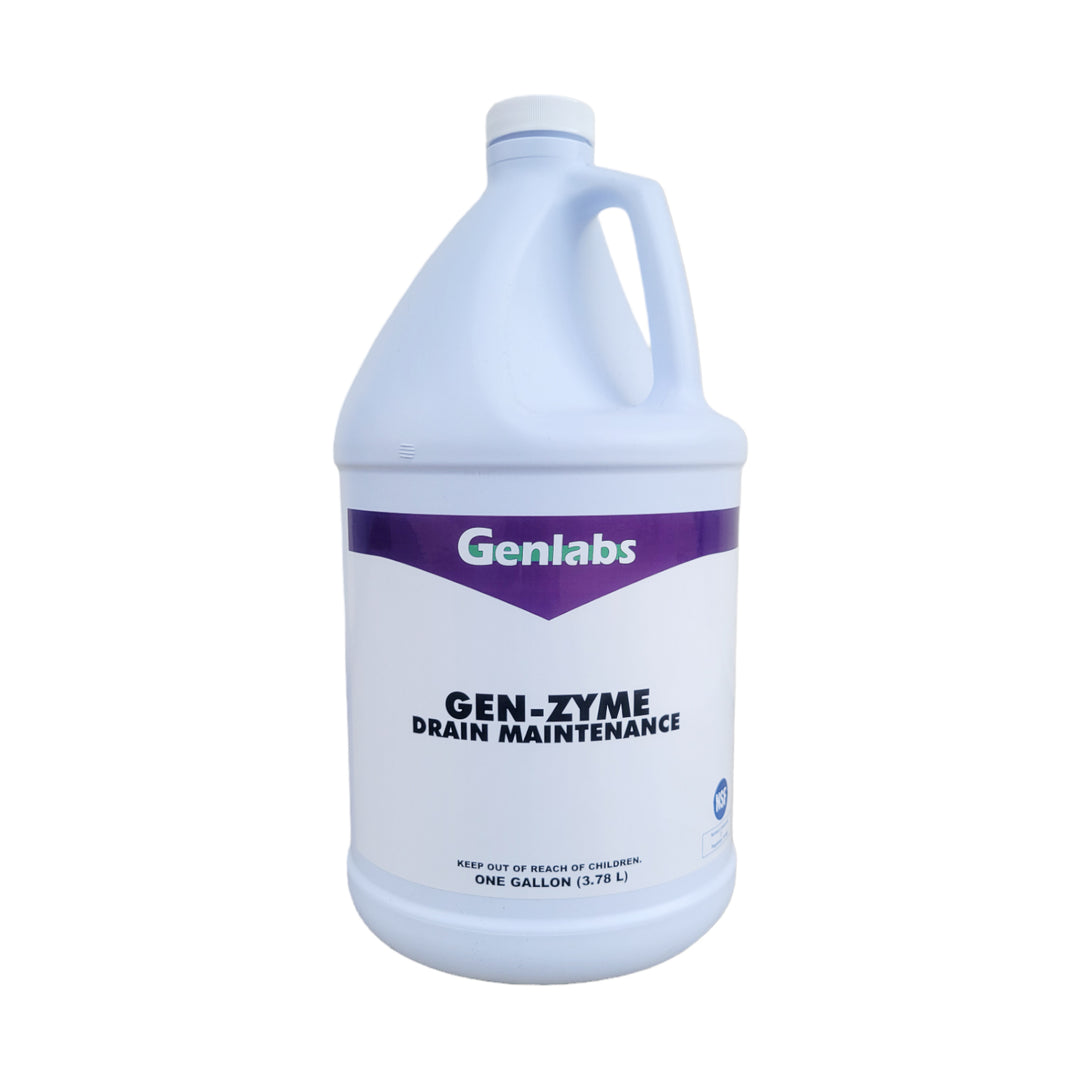 Genlabs Gen-Zyme Gallon
---
Low stock - 3 items left

Inventory on the way
Genlabs Genzyme is a powerful and eco-friendly drain cleaner that utilizes the natural power of live bacteria and enzymes to effectively eliminate clogs and prevent future odor problems. Unlike harsh chemical drain cleaners, Genzyme relies on beneficial microorganisms to break down organic matter, such as food scraps, grease, and soap scum, clearing drains without harming pipes or the environment.
Key Features:
Biodegradable formula: Genzyme's natural ingredients are readily broken down by the environment, making it a sustainable choice for drain maintenance.

Safe for septic tanks and holding tanks: Unlike chemical drain cleaners, Genzyme is safe to use in septic systems and holding tanks, preventing damage to these crucial wastewater treatment components.

Odor counteractant: Genzyme not only clears clogs but also eliminates unpleasant odors emanating from drains, septic tanks, and holding tanks, leaving your plumbing system smelling fresh and clean.
How Genzyme Works:
Bacterial Action: Upon application, Genzyme's live bacteria begin to multiply rapidly, forming a bio-active layer around the clog.

Enzymatic Breakdown: The bacteria produce enzymes that break down organic matter, liquefying grease, soap scum, and food scraps, effectively dissolving the clog.

Odor Elimination: Genzyme's odor counteractant neutralizes unpleasant smells, leaving your drains, septic tanks, and holding tanks odor-free.
Benefits of Using Genzyme:
Effective clog removal: Genzyme tackles even stubborn clogs, clearing your drains without the need for harsh chemical agents.

Preventative maintenance: Regular use of Genzyme helps maintain clear drains and prevent future clogs from developing.

Safe for plumbing: Unlike chemical drain cleaners, Genzyme is gentle on pipes and will not cause corrosion or damage.
Application:
Grease Traps: Treat at night or when traps are used least. Pour 8 ounces product per 160 gallon grease trap capacity directly in trap, or in pipeline closets to trap. Follow with 1 cup lukewarm water. Recommended for daily use.
Septic Tanks: Initial treatment: Use 1 pint per 200 gallon capacity, poured directly in toilet and flushed. Thereafter, use 8 ounces per week.

Drain Lines: To maintain free flowing lines, use 3 to 4 ounces two to three times per week. Best results obtained when used at end of day, to allow bacteria time to act.
Holding Tank: Initial treatment: Use 2 ounces per gallon of water in holding tank. Thereafter, use 1 ounce per gallon of water in holding tank. Repeat after every clean out.
**Note:  This product is not intended to dissolve plastic, paper, rags, or other non-organic material.