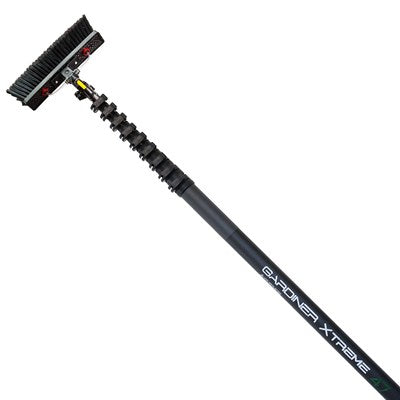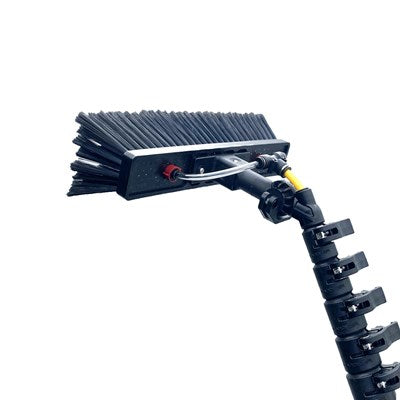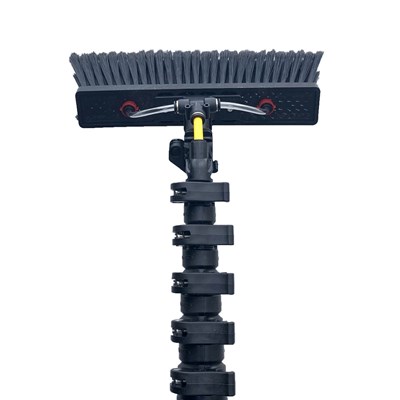 Gardiner X3 Xtreme 47ft Tele HM Carbon Complete
Regular price
$2,467.00
Sale price
$2,120.10
Save $346.90
/
---
Drop-shipped directly to you!
The newly upgraded Gardiner line of poles is designed with user convenience in mind. These poles now come equipped with Quick-Lok brushes and adapters that streamline accessory changes. The clamps have been made thicker and grooved at each end to mitigate the risk of finger pinching when collapsing the pole. Additionally, the levers have been redesigned with an aluminum pivot nut for enhanced durability.
The Xtreme 47ft HM Carbon Fiber pole, a standout product, offers the ideal blend of lightweight construction and superior rigidity. This nine-section hi-modulus telescopic pole is ideally suited for commercial operations, designed to withstand the rigors of constant high-altitude work. It features three clamping points on each section for increased stability. Included with the pole are a Super Lite 11-inch mixed media brush, smart clamps, quick-loq gooseneck, all-season hose, and connector. The base handle section is furnished with an outer insulated layer for safety, and there's an option to add extension pieces if required.
Gardiner offers the lightest, most compact range of high-level telescopic Water Fed poles in the world. Constructed fully from carbon fiber, these poles incorporate an MCM insulated handle section that combines the rigidity of carbon fiber with shock protection for the user's safety.
These poles feature a newly patented nylon clamping system, protected by patents in the US, UK, and Europe. A twin color overlap system with removable sections contributes to the intuitive, user-friendly design. With a stylish matte carbon finish, users can easily slide sections apart or collapse them as needed.
Every pole package is complete with a Super-Lite® brush, angle adapter, hose, and end connector. Despite packing in all these features, each pole weighs an astonishingly light 5 lbs! To further aid users, red labels are added at the end of each section to indicate the best clamping locations, ensuring maximum stability during operation.
READ BEFORE PURCHASE -> Maintenance Guide
Key Features
Xtreme 47 ft. HM Carbon Fiber pole is the go-to pole for regular work above 50 ft.
Easy-to-use even when extended with extensions to heights of 50+ feet
Great balance of lightness, rigidity, and strength
9 section pole with the latest smart clamps
Insulated Handle Section has been tested to resist up to 5,000v with an average resistance of 3.2 G
Included
Xtreme X3 47ft Pole only
Hose 100ft Yellow All Season 5/16in Pole
Adaptor GH QC to 5/16in pole hose barbed
Brush Super-Lite 10in Med/Mixed Q-Loc
QuicK-LoQ Gooseneck Tube Through Stem
Hose Union Connect 5/16 PushFit Gardiner
Poly Receptor with Female Hose End/Shut
We coordiante with the manufacture and ship to your preferred location.
If a product is on back-order more than 7 days, we will notify you immediately and issue a full refund.
Liquid error (snippets/image-element line 103): invalid url input